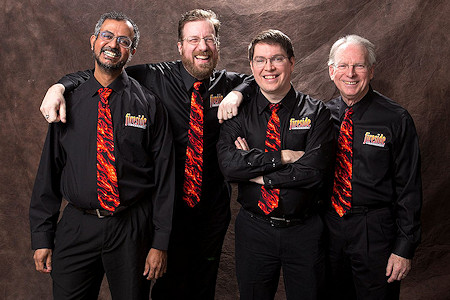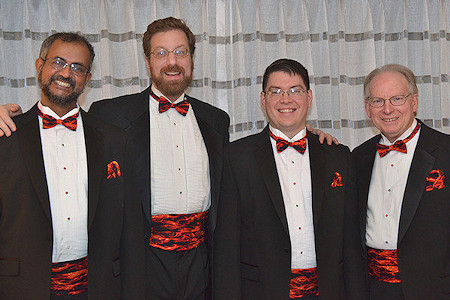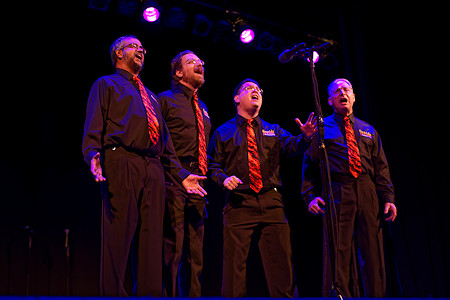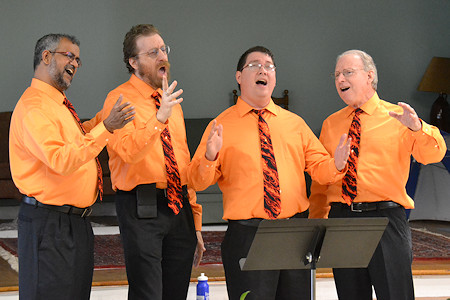 Blending our voices to share joy with others.

After singing together for seven years, the Fireside Quartet will be taking a year off while one of our members will be out of the country.
We've had quite a run! We've competed at District several times and took home medals twice. We competed at the Boston Regional Harmony Sweepstakes in 2017 — and won it, much to our surprise! — and went on to compete at the National Contest in San Francisco. We made a CD, a new experience for us, and we greatly enjoyed sharing it with you. We celebrated together as one of us turned 70, two of us turned 50, and one of us turned 40. We sang at a marriage proposal and celebrated the birth of three children and one adoption! We performed with the New Hampshire Philharmonic Orchestra and on shows and at churches and synagogues and retirement communities and street fairs.
And through it all, you were there, with your love and your support. You came to our shows and our contests, you bought our CD, and you cheered us on, every step of the way. So thank you, every one of you, from the bottom of our hearts. We truly couldn't have done this without you.
No doubt you'll see us individually — at barbershop contests and shows, at chorus events, at Harmony Brigades. Please come say hello and sing a tag with us.
Oh, and if for some reason you don't have a Fireside CD yet... we still have a few left, and we won't be making any more. Get 'em while they last!
Thanks again, for everything! We love you all.
Yours in harmony,
Jesse, David, Manoj, and Daniel